Encapsulation, Smoothies, Tincture, Essence & Cord Keepsakes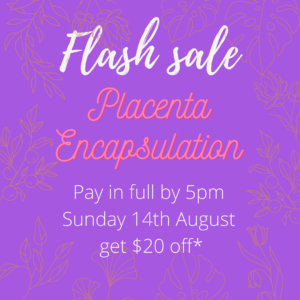 What sets me apart from most encapsulators? 
I'm based in Cronulla now after making a sea change in order to spend more time with my daughter but can usually collect within a few hours, especially when given a heads up that you're in labour!

I pride myself on a fast turnaround  – I'll have your package back to you ready for your first dose, most often it will be the following day
I have been providing this service to the women and families of Sydney for over 7 years now – who would you feel confident in entrusting your placenta to? A person who is just starting out or someone who has serviced over 2000 clients?
Which areas do you collect from?
I work with clients giving birth at the following locations and charge no extra delivery fee – Sutherland Hospital, Kareena Private, St George Public & Private, Hurstville Private, RPA, Prince of Wales, Royal Hospital for Women and the North Shore – Mater and Royal North Shore Public & Private and those home birthing their babes in this vicinity.  
This service includes encapsulation, instructions on consuming and storage, picking up your placenta from your birthplace and FREE delivery to the above hospitals or areas of Sydney. I may be available to support your postpartum in other areas too by request.
**PLEASE NOTE **
All requests that are made last minute – that is, not fully paid for before labour starts, will incur a $50 rush fee – always best to book in your service as early as possible as sometimes your little one can't wait to meet you!
FREE Cord Keepsake with every booking!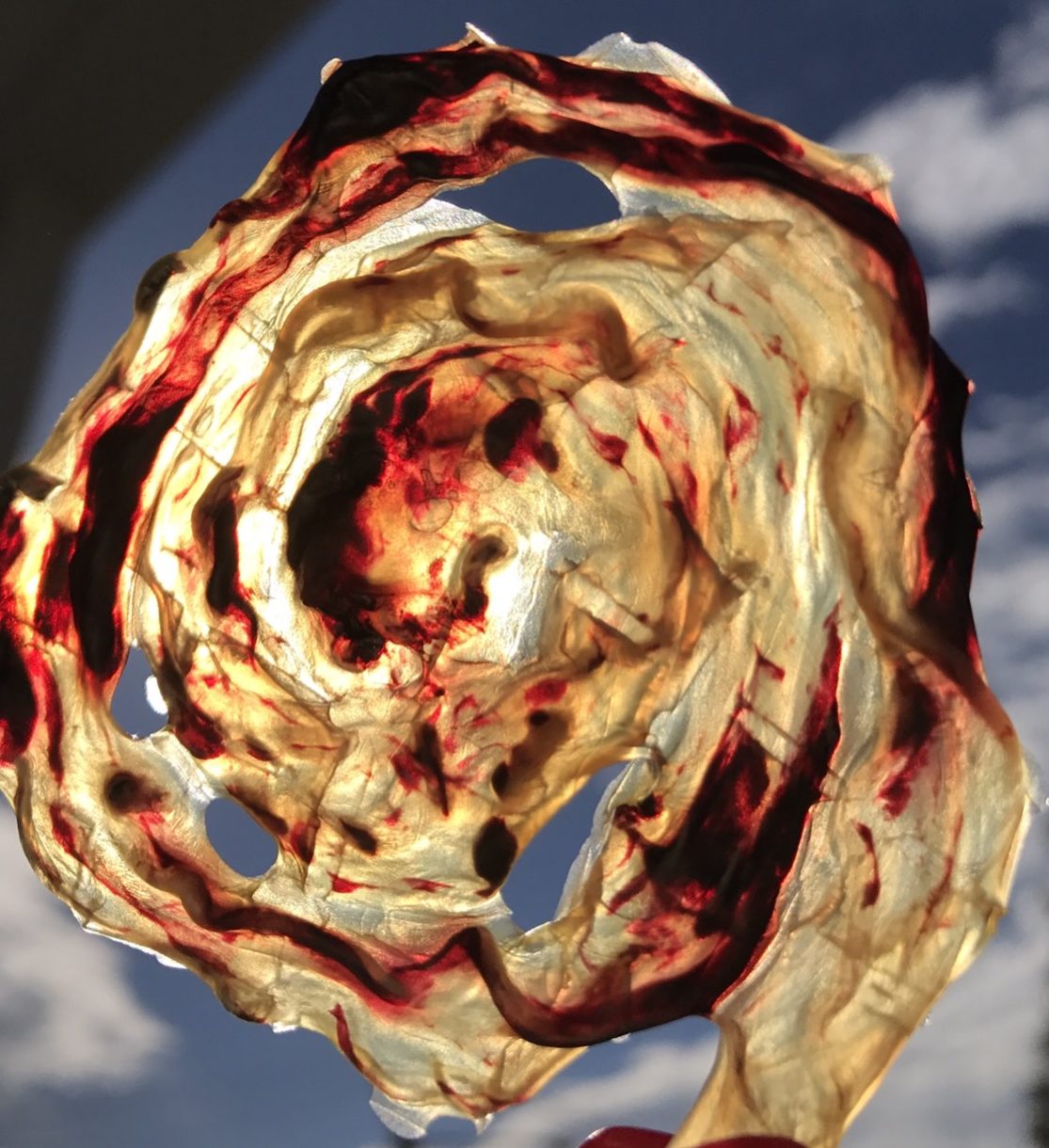 If you're ready to make a booking now just click the button below to complete the booking form.
I want to make a booking!
I tell everyone who asked how I bounced back so quickly after delivery that the secret was the placenta smoothie. This was my fourth delivery and I used placenta capsules for the third which had great benefits for my recovery but this time the recovery was unreal! Bleeding stopped after 1 week, uterus shrunk to normal in 1 week, no baby blues, weight loss was fantastic – 25kg in 3 weeks – and felt awesome. Couldn't ask for a better result, really happy and would do it again and highly recommend your services. Super fast getting the smoothie within 8 hrs of delivery (and that was due to delivering at night – Georgie)
TCM Placenta Encapsulation – $300 ($50 extra for twins)
In the Traditional Chinese Method of encapsulation, I steam the placenta with chilli, ginger and lemon before dehydrating – this is said to help balance and keep the natural Qi (energy) within the placenta. I then ground into powder and encapsulate. It is believed that the state of mind one carries while working with the placenta will be absorbed into the medicine, so I ensure a healing focus is maintained throughout the process. Using this preparation is thought to bring out the placenta's healing and tonifying properties as well as warming and healing the uterus.
You can expect a yield of around 120 capsules with this method based on an average size baby of 3.2kg.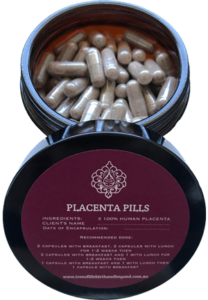 Raw Placenta Encapsulation - $300 ($50 extra for twins)
Raw placenta encapsulation is dried raw without steaming.  This process is a simple way to process the placenta that helps to retain the maximum nutrients.  This is a great choice for those that would like to get the most from their placenta.
You can expect a yield of around 150 capsules with this method based on an average size baby of 3.2kg.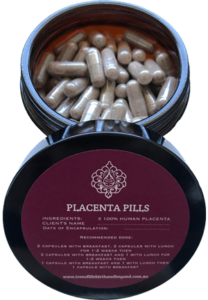 To be consumed as soon as possible after birth of placenta. The smoothie is made of a 3cm piece of fresh placenta (the rest can be prepared into capsules or other remedies), a handful of fresh organic berries of choice, 1 whole banana and water. Simple and delicious
Clients have reported a raw placenta smoothie may:
Help stop postpartum haemorrhaging and trigger the body to quickly heal internal wounds
Significantly reduce blood loss
Give the body an immediate supply of essential vitamins and nutrients
Provide the body with an immediate boost of hormones to begin healing the body after birth
Give the mother an immediate feeling of strength and balance
Most mothers who have the smoothie report milk 'comes in' at day 2 postpartum rather than 3-4 days postpartum
Eases the hormonal transition to postpartum and helps prevent the 'baby blues' around the time when milk engorges the breasts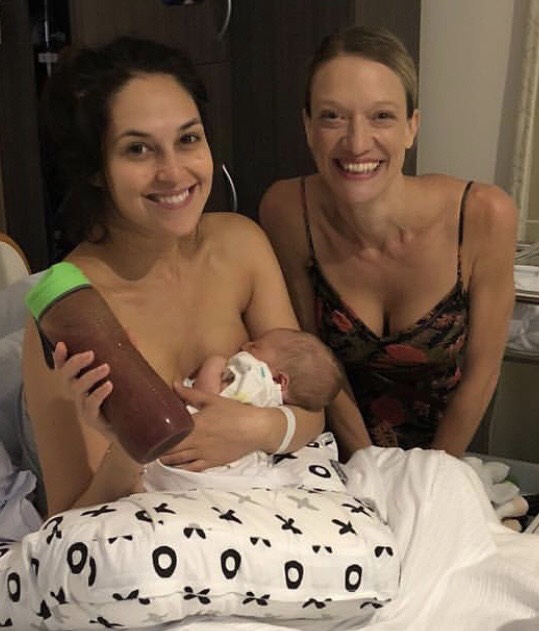 A small part of the raw placenta is added to a brandy base and left to ferment for 6 weeks. The placental tincture is strong and clients have reported it helps with hormonal balancing, including PMS (will keep indefinitely if stored properly).
The tincture is a fantastic follow-up once your capsules run out – by taking the tincture you will experience all the wonderful effects of the capsules long-term.

A small part of the raw placenta is added to distilled water, allowed to rest, strained and brandy is added. It takes 24hours to create the essence.
Clients have reported the mother essence heals on an energetic or vibrational level and may stimulate the 'vital force', help in times of distress, imbalance, give energy and strength when ill. It can be also be given to your baby in times of distress (will keep indefinitely if stored properly).

Cord Keepsake - FREE with every order!
To honour and treasure the umbilical cord that connected your new baby to your womb throughout pregnancy, we remove it from the placenta, shape into a keepsake e.g. a word, a spiral or a heart (depending on length of cord) and then dehydrate it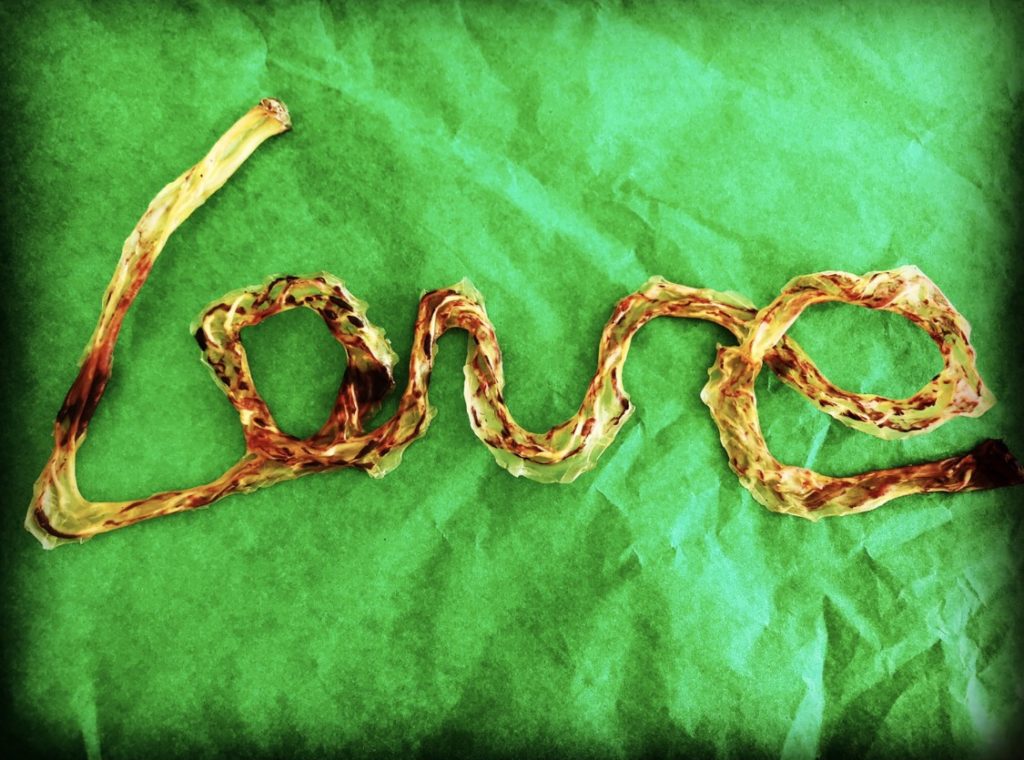 Why not get them all and save money too with a package deal!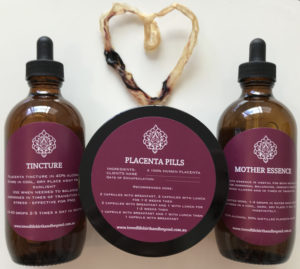 I loved my capsules! I was so, so sad when I took the last two! They were seriously the best thing I organised. They gave me energy and I think I felt quite stable in terms of mood considering I had a newborn, a five year old and a small business and house hold to take care of (and I had a Csection!) i have recovered very well much faster than my first so overall I can't recommend you enough!!!
I've already got cleared by the Dr today and it's only just my 2nd day! Just waiting on the midwives to give me the clear to be discharged. After drinking the smoothie yesterday I felt as if it cleansed and revitalised my body and helped with the c-section cut. I feel a burst of energy after each capsule dose and my breast milk supply has been abundant. I couldn't thank you enough Georgie! I honestly believe it's helping me and my son! I'm so glad I picked you to do your magic with my placenta.
I am still taking my placenta pills and loving the experience. I feel fantastic. My milk supply is great, I am happy and feeling well, I feel energised and strong, both physically and mentally. I would so recommend placenta encapsulation to anyone having a baby and I'll most definitely be recommending your services. Thanks for being so efficient and helpful when I contacted you a few months ago and thought out the process.
Despite a traumatic birth, I had an amazing birth experience and early postnatal period. I love being a mom and am happy I chose to encapsulate my placenta with Georgie. I feel fortunate that I didn't get any serious bouts with depression like I know some moms experience because of crazy hormone swings we experience. I can't say this was a cause and effect phenomenon, but I can say that I will 100% do it when I have another baby.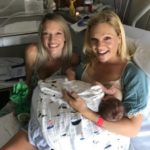 Anna Kooiman
To book your placenta services, or for more information please call on 0403 777 277 or fill out our booking form.
I have completed the Placenta Encapsulation Specialist Training and also courses in Bloodborne Pathogens and Universal Precautions and Food Safety.
Important Disclaimer: We are not a medical body and do not claim to prevent, treat, or diagnose any illness or symptoms during pregnancy, birth or the post-natal period. Clients that choose to utilise our services assume full responsibility for their health and for researching information regarding our placenta services. 
Terms & Conditions – I understand that Tree of LIfe – Nurturing Birth and Beyond is providing a service, not a product.  The service is processing your placenta into pill form for consumption by yourself at your own risk.  This service is not currently approved by the TGA. This service is performed using fully sanitised and where possible, disposable equipment while wearing food grade gloves.  It is my (the client) responsibility to ensure that my primary caregiver is aware of my decision to encapsulate and that my placenta is not disposed of – (Tree of Life strongly recommends that your decision is included in your birth plan)
If you have any health or safety concerns about placenta consumption feel free to call to discuss them with me.  You may also find helpful information here and here.